VALENTINE'S DAY!
I'm the queen of hearts and
I Just Called to Say I Love You! Let Me Call You Sweetheart! I tell the story of St. Valentine, and That's Amore! I become Stupid Cupid ... your Funny Valentine.With L-O-V-E in the air, we find the Candyman. Speaking of sugar daddy... Marilyn Monroe makes an appearance, throwing (Hershey) kisses!!! This Kiss! I Wanna Be Loved By You! Kiss me once and kiss me twice and kiss me once again! It's The Power of Love! At Last!Gimme Some Lovin', cause I Love You More Today Than Yesterday!I Will Always Love You....Forever and Ever, Amen!
St. Patrick's Day! Begosh and begorrra, I'm Trina Janura, and I'm full of the blarney today! I'm a leprechaun doin' an Irish Jig.It's a Great Day for the Irish, so If You're Irish, Come Into the Parlor, and we'll singalong to all the pub drinking songs! It Isn't Easy Bein' Green.I'm the Wild Irish Rose, the Wild Rover, finding a pot of gold Over the Rainbow. I'm Looking Over a 4 Leaf Clover.Who Threw the Overalls in Mrs. Murphy's Chowder? I'm Harrigan, full of shenanigans...there's Mary, Kathleen, and Peg 'O My Heart! We visit Dear Old Donegal & Dublin, but It's a Long Way to Tipperary!When Irish Eyes Are Smilin' we'll do another jig! We march around with the fighting Irish of Notre Dame.I play the flute for Danny Boy and we sing Toora Loora with Bing Crosby. Then a rousing finale with the Lord of the Dance, Ireland's Call from Celtic Thunder,and Amazing Grace with the Celtic ladies!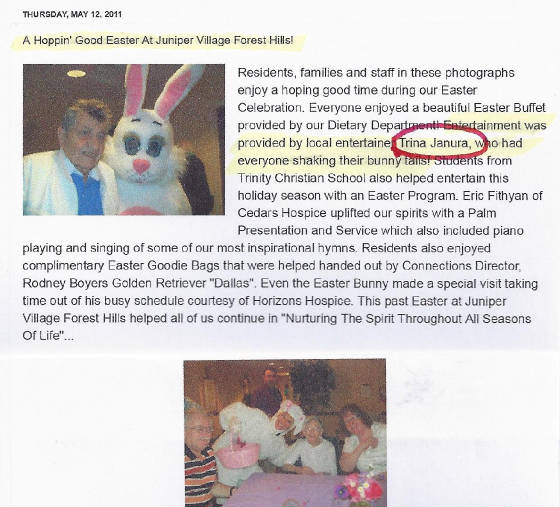 Cinco de Mayo!Bring on the fiesta! Bring out the pinata!Arrriba---rriba! I'm Chiquita Banana! Day-O!Welcome to the Copa Cabana, with Carmen Miranda, The Lady in the Tutty Fruity Hat! Or is it Charo? Coochie coochie! We go South of the Border and I pass out sombreros and maracas. We cha-cha, rhumba, merengue and more.We tango at Hernando's Hideaway, Then we go to the arena and see a bullfight (we select someone as matador and bull) where nobody is bored, gored or sworded!We cheer ole to the sounds of the Tijuana Brass! We enjoy Rum and Coca Cola, Tequila,and Pina Coladas at the Margaritaville cafe,we celebrate with the Mexican Hat Dance, the Limbo, the Macarena, and do the Conga line to Hot Hot Hot! Ole!

4th of July!
Hey leader, Strike Up the Band! Everyone is Comin' to America and Yankee Doodle Trina is leading the parade! She's a baton-twirling, banner-waving, Streamer-flying Grand Marshall with fife & drum, and Grand Old Flags for all! God Bless the USA with Stars & Stripes Forever!We salute all the branches of the armed forces. We sing along to all the patriotic favorites!Then we swing with Glenn Miller hitsand the Boogie Woogie Bugle Boy. Gee, I Wish I Was Back In the Army! Let's R.O.C.K. in the USA!God Bless America! This show can be merged with the summer show!

FALL! State Fair festival under the Orange Colored Sky! Take Me Out to the Ballgame! Who's On First? A Moonlight Serenade in September!Shine on, Harvest Moon! Allegheny Moon...Silvery Moon...(It's Only a Paper Moon) Country Harvest Hayride Hee-Haw Hillbilly Hootenanny Hoe-Down! Howdy! Y'all Come for some Mountain Music! I'm Ellie Mae, Back in the Saddle Again with Spurs that Jingle Jangle Jingle! Yee-haw!
Me and my horse Mr. Ed act out Rawhide... We're Home on the Range, so Don't Fence Me In! At the Square Dance we'll 2-step and line dance. Then a hog-calling contest, some yodelling,and an interactive Old MacDonald that is more Crazy than the Chicken Dance! Happy Trails to Country Roads!...Y'all Come back now, ya hear?
SOCK HOP!
Folks love this musical show any time of year!

Hello, Baby! It's back to Happy Days!

I'm Sandra Dee, with my ponytail, poodle skirt,

bobby socks and saddle shoes!
Dick Clark's Bandstand crashes our gym At the Hop!
Big Bopper, Bill Haley, Chuck Berry, the Chordettes
and so many more 50's hitmakers are re-enacted!
We're at the soda shop with Frankie Avalon!
We're at the jukebox with Perry Como!
We find Elvis is in the building to perform!!
We're at the bowling alley with the Pink Ladies!
... In fact, we act out all the fun GREASE songs!
We're at the Beauty shop with Frenchie,
modeling her wild wig creations!
We lindy hop, bop, shake, rattle, roll, stroll,
swing, jump, jive, twist & shout!
Now it's time to say goodbye with
Annette, Bobby and the Mickey Mouseketeers!

Trina's October shows video teaser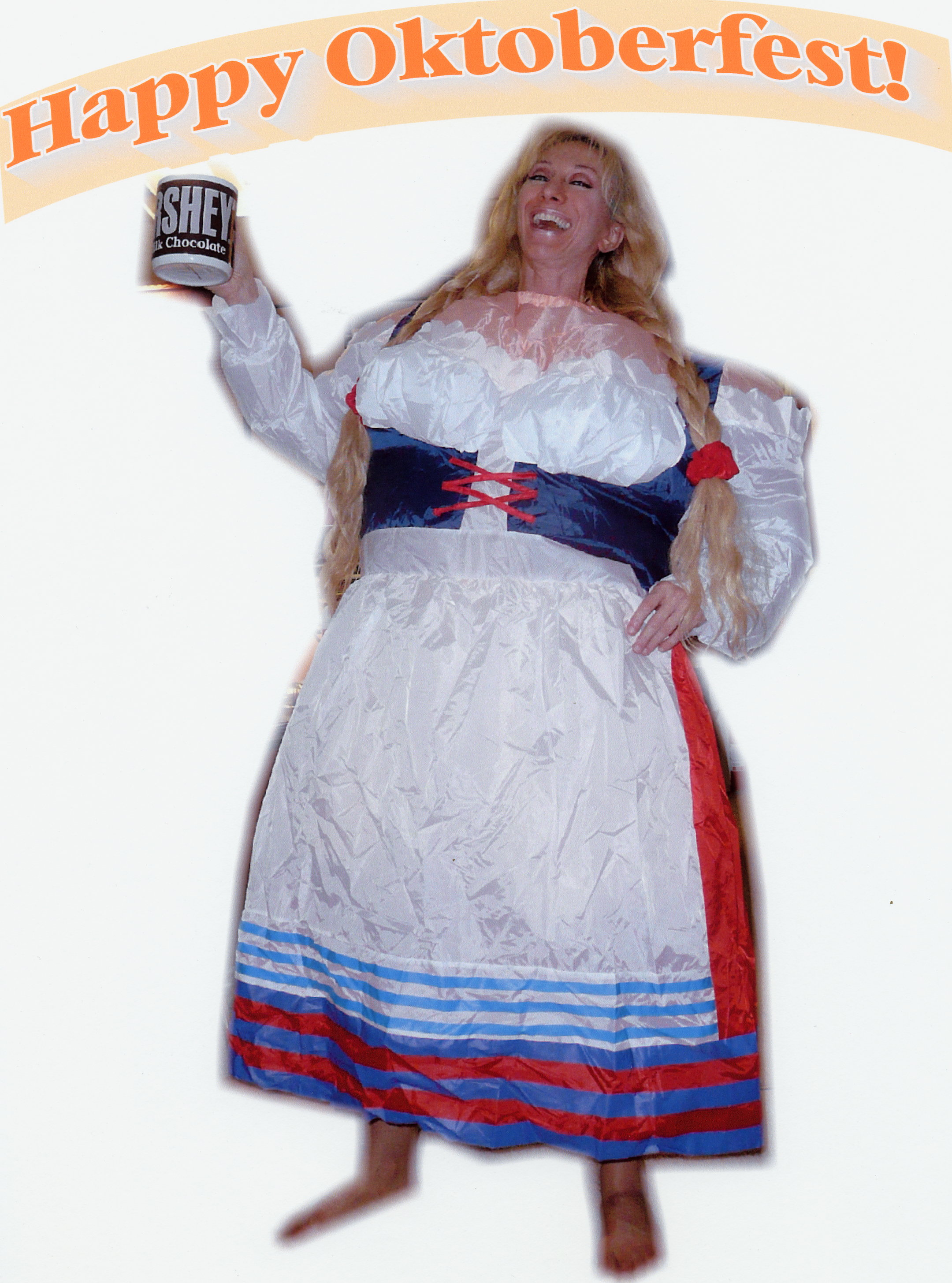 HALLOWEEN!
Goood Eeevnink. I'm Vampira...
the Phantom of the Opera!
Come-on-a My House...I'm gonna give you candy...
There's a Moon Out Tonight
and we're in the Twilight Zone,
so bevare ov dee creatures ov dee niiiite!
With my Witchcraft, I've Got You Under My Skin.
In my cauldron of That Old Black Magic,
I stir up Love Potion #9.
The wicked witch of the west crashes the party...
then the Witchdoctor, Wooly Bully and the
Purple People Eater pay a visit.
We find Ghostbusters to get rid of the ghosts,
we see the Alley Cat sing Memory,
we go into a Time Warp,
and visit the Munsters and the Adams Family.
We do the Monster Mash and pick the best costumes.
It's a howling good time. I Love the Nightlife!
This is not just a Little Shop of Horrors--
this show is a Thriller!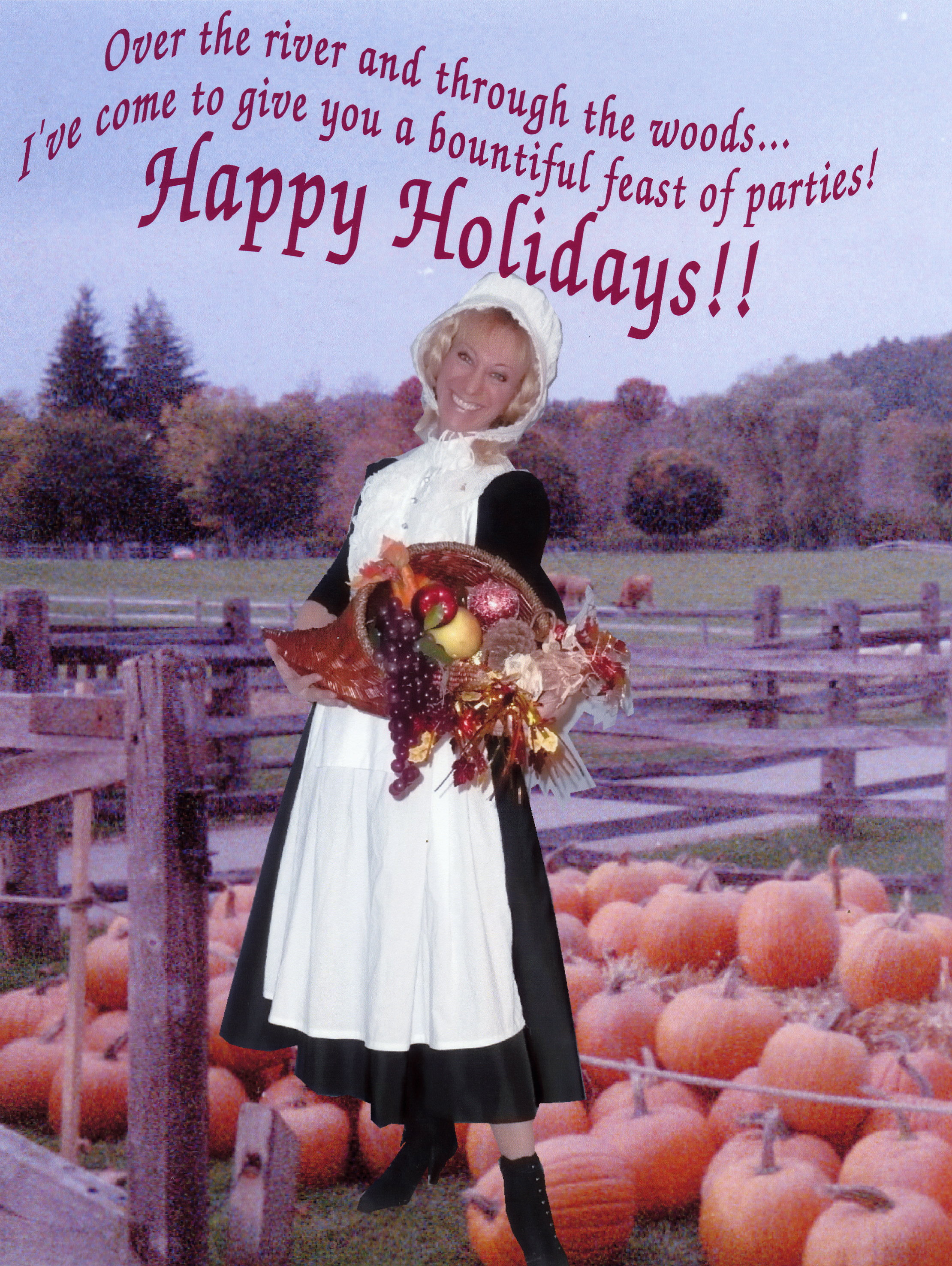 CHRISTMAS!Happy Holidays! All aboard the Polar Express!I'm Christmas Tree-na with Jingle Bells,taking you on a Sleigh Ride in the Winter Wonderland!It's the Most Wonderful Time of the Year! I've Got My Love to Keep Me Warm! Then I'm a 19th Century caroler. Here We Come A-Caroling, Caroling....and everyone joins singing the holiday favorites!Hark, the Herald Angels Sing Joy to the World!Next, a Hanukah medley & Dreidle Song!Baby, It's Cold Outside, but we have some Hot Chocolate, so Let it Snow! We Need a Little Christmas,so we Deck the Halls and bring out the Radio City Rockettes for more song & dance! Next, folks can be an elf or reindeer, wearing a crazy elf hat or antlers. We choose a Rudolph, & Here Comes Santa Claus! Then a Radio City production Snow medley,the Hane's Sisters, Sisters act,and White Christmas finale! Hallelujia! We light candles for SILENT NIGHT!We Wish You a Merry Christmas and Feliz Navidad!